This is the dorm where your Fashionistas (and other types that include the Fashionista trait) live!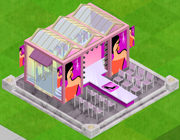 Description
Edit
Style IS substance. Home to only the most fashion-forward of your entourage, this is the most stylish hangout in town. I mean, you should see the walk-in closets in this thing.
More Information
Edit
Cost: 1st dorm is $300, subsequent dorms increase in price by $300
Capacity: 3 before upgrading, 5 after upgrading
Max Cash: $240 before upgrading, $1600 after upgrading
Time to Build: 30 seconds
Time to Upgrade: 1 hour
Cost to Upgrade: $15000
Upgrade Unlocked at Level: 5
Ad blocker interference detected!
Wikia is a free-to-use site that makes money from advertising. We have a modified experience for viewers using ad blockers

Wikia is not accessible if you've made further modifications. Remove the custom ad blocker rule(s) and the page will load as expected.