The Level One quests give the player a basic introduction to the game. The Main Character has enrolled at Hollywood U, courtesy of a Mysterious Benefactor, and finds a quick friend in Addison Sinclair. She shows you around Hollywood U, where you meet your soon-to-be agent, Ethan.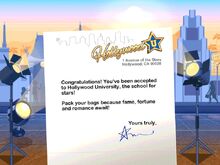 Quest
Requirements
Duration
Rewards
Entourage!
Have 2 Friends
None
1,000 XP
Buy an outfit
Buy any outfit
None
1,000 XP
A Mystery
MC

Anyone

20 seconds
$10

1,000 XP

Hit the Club
MC

Addison

A Guy

1 minute 15 seconds
2,000 XP

$10

Pole Position
Anyone
45 seconds
2,000 XP
Meet Cute
Spend 25 cash
None
2,000 XP
Back to School
Convince!
None
3,000 XP, Ethan
Next Story Quest: Power Brunch
Side Quests
Edit
| Quest | Requirements | Duration | Rewards |
| --- | --- | --- | --- |
| Money to Burn | Add a plot of land | None | $10 |
| Time to Decorate | Buy a Palm Tree | None | $10 |
Ad blocker interference detected!
Wikia is a free-to-use site that makes money from advertising. We have a modified experience for viewers using ad blockers

Wikia is not accessible if you've made further modifications. Remove the custom ad blocker rule(s) and the page will load as expected.