This is the dorm where your Movie Stars (and other types that include the Movie Star trait) live. You can upgrade it at Level 13.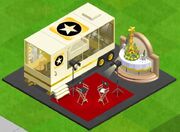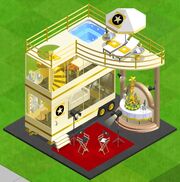 Description
Edit
5-Star accommodations! Complete with wall-to-wall red carpet and trophy cases for all your awards. Don't forget to thank all the little people!
More Information
Edit
Cost: 1st dorm is $200, subsequent dorms increase in price by $200
Capacity: 4, 5 after upgrade
Max Cash: $160, $800 after upgrade
Time to Build: 30 seconds
Time to Upgrade: 24 hours
Cost to Upgrade: 1st dorm is $45,000, subsequent dorms increase in price by $45,000
Upgrade Available: Level 13
Ad blocker interference detected!
Wikia is a free-to-use site that makes money from advertising. We have a modified experience for viewers using ad blockers

Wikia is not accessible if you've made further modifications. Remove the custom ad blocker rule(s) and the page will load as expected.