The High Note is a big help quest in Hollywood 101. Your assignment this week is to break into teams to develop and manage a new musical act. Your goal is to reach as many fans as possible. Since this week is all about music, you quickly recruit the Pop Star to your team. They were once a member of the pop group Maple Sugar, the Canadian pop group phenomenon of 2012. Surely they know all about this kind of stuff?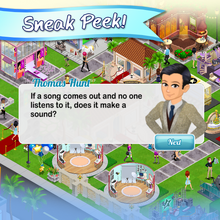 Part
Requirements
Duration
Rewards
1
The Pop Star
2 hours
$20
2
Ethan

Addison

4 hours
$20
3
Karaoke!

$750

None
2 diamonds
4
A Level 3+ Wardrobe Designer

A Level 3+ Composer

6 hours
$20
5
Anyone besides the Pop Star

Anyone besides the Pop Star

Anyone besides the Pop Star

8 hours
$20
6
Level the Pop Star

$1,000

None
2 diamonds
7
MC

The Pop Star

10 hours
$20
8
The Pop Star at level 4+
12 hours
4 diamonds
Ad blocker interference detected!
Wikia is a free-to-use site that makes money from advertising. We have a modified experience for viewers using ad blockers

Wikia is not accessible if you've made further modifications. Remove the custom ad blocker rule(s) and the page will load as expected.