Yacht Party is a premium quest unlocked upon reaching level three. Lisa Valentine has invited the Main Character to join her for her former co-star's birthday party. It promises to be an excellent party, and it's a chance to convince Aria to enroll in Hollywood U.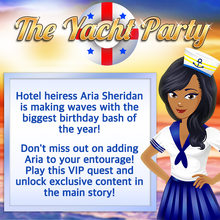 Part
Requirements
Duration
Rewards
1
Preview!

$100

None
$10
2
MC

Ethan

5 minutes
$10
3
Have Level 5+ MC
None
$10
4
Ethan
15 minutes
$10
5
MC
40 minutes
$10
6
Change MC's hairstyle

Buy any Outfit

None
2 diamonds
Next Quest: A New Friend
Ad blocker interference detected!
Wikia is a free-to-use site that makes money from advertising. We have a modified experience for viewers using ad blockers

Wikia is not accessible if you've made further modifications. Remove the custom ad blocker rule(s) and the page will load as expected.